Rustic home décor is the in thing now. If you decide to make use of rustic country home décor, you are not only going to have a trendy home now, your home décor will never really go out of style. You are basically keeping things simple yet beautiful, classic and elegant, and just charming. Years from now, your choice of rustic country home décor will still be as adorable as it is right now.
These beautiful décor you can use for your home need not be expensive though. With DIY instructions widely available now, you can easily own the most beautiful pieces of décor without turning you broke. Here are 4 rustic country home décor ideas you may want to consider.
1. Pallet Magazine Holder
You can easily get wooden pallets for free in your local grocery or a junk shop. If the owners of these establishments decide to charge you for wooden pallets, you won't spend more than just a few dollars for them. Wooden pallets play such a huge part in rustic style homes and with a few of these, you can make a lot of things including a magazine holder. You don't even have to take a hammer and some nails. If a wooden pallet still looks and feels sturdy enough, you can turn it into a magazine holder straight away after cleaning it thoroughly. If you're feeling a little more creative, grab a can of paint and a brush and color it according to your preference.
2. Mirror with Wooden Frame
Recreate an old mirror you want or buy a cheap mirror and turn it into a glamorous piece of rustic furniture. You can use little pieces of wood, attach them together and glue them onto the sides of the mirror to make it into a frame. If you drop by a thrift shop or a junk shop and happen to get lucky with some carved wooden pieces, you can use these to make an even more fabulous frame.
3. Raw Wood Shelf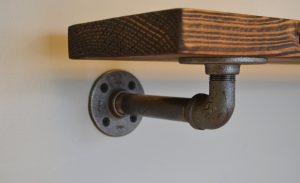 When we say raw wood, you don't paint it or varnish it. Just use it as is. A floating shelf is the easiest to make as you can easily use some L-brackets and a drill to have a shelf installed. If you're an expert in carpentry, you can install the raw wood directly to your wall without the brackets to make it look flawlessly beautiful.
4. Driftwood Bench
Driftwood is obviously free unless you live in a place where driftwood needs to be bought. You can use an existing bench and just attach the driftwood on top or you can build a new one from scratch. Just use some pieces of wood as legs for the bench and use a nail gun or your drill to attach the driftwood. Make sure though that the driftwood you'll be using is sturdy enough so that your bench will be safe to sit on.
There are more things you can create and recreate to come up with rustic home décor. You don't need to be an expert or a very creative person just to be able to come up with rustic pieces that you can be surely proud of.