You can have a full rustic-style home or you can choose some rooms or areas in your home that you'd like to go rustic. Start with your bathroom and make it your new favorite spot. Bathrooms are very important. This is probably the only place in your home where you can enjoy your alone time without any interruptions. For every trip to the bathroom truly relaxing, it should exude a relaxing atmosphere as well. With rustic designs that will make your bathroom more charming than ever, expect to spend a little more time when taking a shower!
If you are still in the process of transforming your bathroom with a whole new look, here are 6 rustic bathroom features you may want to consider.
Vintage Bathtub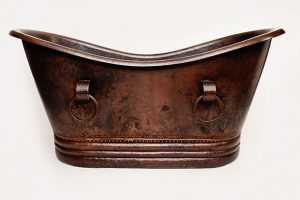 You can get a copper bathtub or even a basic white one. A vintage bathtub is essential in making your bathroom have such a rustic look and feel. Even if you want the transformation of your bathroom from simple or modern to rustic, a bathtub with a vintage design is a good start as it takes up a lot of space in your bathroom. You can adjust the other features once you have this bathtub installed.
Copper Sink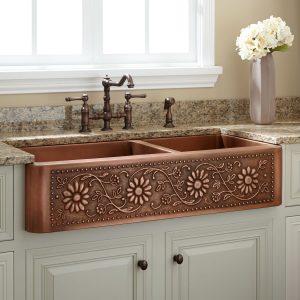 A copper sink that looks old but clean is also a great feature that you can add if you want a rustic bathroom. Cleaning copper is not the same as if you have a steel or stone sink but it's worth your time and effort. It will truly bring out the rustic in your bathroom!
Brick Wall
You don't have to place brick walls all over your bathroom if you want to go rustic. You can simply turn one side of the bathroom into brick or even just a pillar. You can make the entire bathroom just basic with white walls or tiles but if there's a brick area, it could do a lot in turning an ordinary bathroom into a rustic bathroom.
Keep Things Simple
The secret to having a rustic room, including your bathroom, is by keeping things simple. Do not go overboard with decorating or use so many colors in your bathroom. Stick to one or two color combinations, minimize with the décor and keep everything clean.
Industrial Look
Visualize a warehouse. Have some exposed steel or metal pipes or use one of those thinner pipes as a towel hanger. The industrial look or sometimes even the "unfinished" look will also work well if you are aiming for a rustic bathroom.
Plant Pots
Have a couple of plant pots in your bathroom. It could be flowers or just a simple plant. You can decorate the pots or color it according to your bathroom's color theme. It would be best if you will be using natural plants rather than fake ones. Remember that rustic could also be something that brings you closer to nature so adding these real greens in your rustic bathroom will definitely be a great idea.