You may have always dreamed of living in the perfect cabin, feel warm and cozy in your home and have a cup of warm coffee while reading the newspaper by your tiny wooden table by the window. You'll have a great view of the great outdoors with birds chirping and the beautiful trees and landscape will just make you feel truly calm and relaxed. However, not everyone has the luxury to live close to nature. It could be that work requires you to live in a busy city or you have settled in an apartment complex that's made up of all-concrete materials which has definitely halted your dreams of a cabin.
These situations shouldn't stop you though. You can still live in a modern home and use log cabin décor as much as you wish. All you need is your imagination, creativity and resourcefulness in finding the perfect furniture and decorations for your home. You can also ask for professional assistance or expert advice from rustic home decorators who have the ability of transforming any home into one that looks and feels like you are in a log cabin.
Use Wood As Much As Possible
Wood is a key element to log cabins. There are many parts and furniture of your home that can make use of wood. Bed frames, mirror and picture frames, clocks, tables, chairs and a whole lot more. Use raw wood in particular which would even cost you less! If you have a single detached home, then you can probably even build your own fireplace. If not and you have more budget to work with, then you can have an electronic fireplace installed. Just place some firewood by the side for decoration.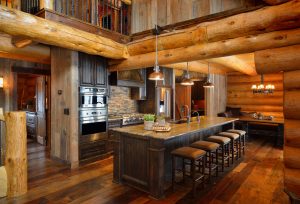 Beddings, Pillows and Carpets
Beddings and pillows can do a lot in making your home feel like a log cabin. Choose ones with bear decorations and bulky duvets and comforters of red and green. When combined with a wooden bed frame, those would definitely make a great log cabin-look. Carpets would also be great. An area carpet or rug made of sheepskin would be a great addition whether in your living area or your bedroom.
Leather Seats and Sofa
While you can probably settle with fabric-upholstered chairs or sofa set, it would be great if you can find leather ones. This could cost you a little bit more but the elegance and classiness it exudes would definitely be worth it. In the long run, you can even save more because leather is a durable material and it won't be difficult to clean. Especially if you have kids in your home and pets that shed hair, cleaning leather is so much easier than cleaning fabric material.
Thrift Shop Décor
Visit a thrift shop and look through some antique and vintage décor. If you find an old metal chandelier that you can restore on your own, that would be a great choice. You can also look through some paintings or frames that you can adorn with family photos for a more personal touch.